So this was how Ken proposed...
| | |
| --- | --- |
| | It is unimaginable that in Ken and Trina's third month of being officially together, he (Trina guess to be subconsciously) asked her if she can already see the relationship as something lifelong. As a novice in a relationship, she needed to see a lot more of what was to come. The succeeding years as he earlier promised, were of great joy and inspiration. The two were really inseparable. After a year, Ken asked her the same question. Little did he know, Trina had been feeling the same way as more months pass that Ken has truly always been there for her no matter and that her family has loved him even more knowing that she's been well take cared of. |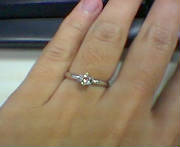 Trina's precious
And so on the night of June 11, 2004, Ken brought her to Vivere to have their usual friday night dinner. They left for work quite late that it was already past midnight before they finished their meals. So...the rest of the story practically happened on the 12th of June already. When Trina went to the ladies' room, Ken left a small box in the dinner table along with a note inside that says 'please marry me.' Ofcourse when Trina got back, although surprised with the silver box, pretended not to see it. Until, excited of the reply, Ken finally knelt down in front of her and verbally asked her the BIG question. She was speechless (how they portrayed it in the movies, it's true!) but allowed him to slip the ring in her finger (and it fitted well!!!). All she was initially able to say was she needed more time to think about it with a silly grin on her face. When they arrived in Dasmarinas, before she went inside their house, he knelt in front of her (again!) and ask her to marry him... and her answer was mighty obvious already... that was it!!!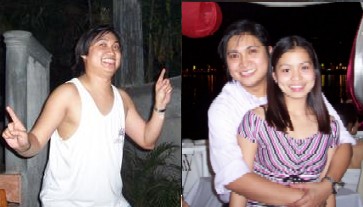 Telling her parents was a more nervous breaking event than the engagement (you couldn't imagine how much sweat Ken had shed while telling Trina's parents about the upcoming even <laughs>), but of course, that was another story. :-) The much exciting news at that time was... tandandadan...Trina was definitely going to be a JUNE bride!



two souls with but a single thought, two hearts that beat as one.