the church we were married
National Shrine of the
Sacred Heart
This is the church where we'd usually hear mass during Sundays even before we got officially together. In short, it has a sentimental value to us and it is our ONLY choice to hold our wedding ceremony on. :-) We also love the usual officiating priest during Sunday masses, very lively and witty esp. in delivering his sermons and that is also why we got him to officiate our wedding.
The church itself is not as big so with our 200 guests, there weren't empty seats and it looked good in the pictures. Contrary to other brides, Trina didn't really want to spend too much time on her bridal walk, it has an aisle just really enough for hers. They had volunteers/in-house coordinators during masses (& special occassions) to make sure everything is organized. It can really be noticed that the church is well-maintained with its cleanliness. As for the altar, it is truly very beautiful, the flowers won't really be noticed no matter how they were arranged. And the atmosphere inside itself is very peaceful.
On top of all these, it is one of those airconditioned churches in Makati that isn't as expensive, given all the inclusions for a wedding. And it has seats even on the 2nd floor in case it gets too crowded on below.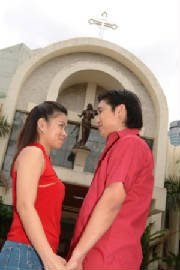 As for our wedding details:
PROS:
- When we initially inquired in their office, the staff were very friendly and accommodating esp. Sr. Tess. She discussed to us the restrictions of the church and gave us a checklist of documents required.
- The church staff always contacted us for any "deliverables" that were getting behind schedule of their submission. He also gave us list of songs that can be played during wedding ceremony and soft copy of the missalette itself. The deadline supposedly for all documents was at least a month before the wedding date, our marriage license was released a week before it and we didn't encounter any problems on that with them.
- Our canonical interview was scheduled as early as September 8 (Mama Mary's birthday so we couldn't forget it), even when we had not finalized our wedding date (we changed wedding date 4x because we were having a hard time finding a reception venue and hotel that were both open for our desired dates and time slots).
- They have an in-house florist, which they gave the contact #s to us so we can upgrade separately (to include red & two-toned daisies to match our red & gold motif). The florist wasn't very hard to haggle with, the upgrade price they gave in was actually 60% off from their initial quote to us. We didn't have the time to meet up with the florist so we paid the upgrade fee to the church staff instead and we still got what was expected on the wedding day itself. - Since they have volunteer coordinators, they were the ones who assisted on the organization of processional, offertory & recessional.
- Plus points are the ones listed above as our reasons for holding our wedding ceremony in this church.

CONS:
- They were very strict with the time allotted. Our wedding ceremony was at 3pm, I arrived at 3:15pm because the delay in the makeup with my ento and myself created a domino effect. Even if the next scheduled mass was still at 5pm, they wanted for us to vacate the church by 4:30pm to give time to setup for the mass. The pictorials were stopped right after the shot with the entourage. They gave instructions to the photographers to move out though they were pleading already and even announced that we only have 2 shots to go (which were given to the whole entourage). In short, we didn't have pictures with the whole of our family in the
church. We were hoping they would've been more understanding since this was a once in a lifetime thing and we couldn't get the whole family to be present again for an event like this. :-(
- One of the volunteers also asked Ken, during the pictorials, who was going to drive Msgr.Sarmiento back to his house. She could've asked someone else because obviously we were still having our pictorials. We found it quite an inconsiderate action on their part.
If interested, contact details are

Msgr. Antero Sarmiento, PH

Cellphone: 09213498848

Home Phone: 8337619

Home Address: 4665 Makiling St, Palanan, Makati City

Email Address:

terrysarmi@yahoo.com

In-house florist

of NSSH church

Cellphone: 09178209830

Office: 6385383

National Shrine of the

Sacred Heart

Office: 8956331
Address:

4 Sacred Heart St. (formerly Dao St.),

San Antonio Village, Makati City



two souls with but a single thought, two hearts that beat as one.