Trina's Designer
C E C I L I O A B A D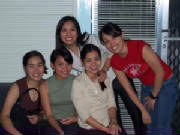 Cecil wasn't the first couturier we paid a visit on. When Trina started texting him to merely inquire, he promptly replied to all her questions. Come the meeting day, as soon as Trina entered his shop, Cecil smilingly said to her "O, Trina! Trina ni Ken!" and that was the start of the client-customer relationship. When Trina initially discussed with Cecil their budget and motif, Cecil already started sketching the gown designs for all entourage members and mothers. And with Trina's dream bridal gown which is heavily beaded from the top to the train, Cecil still gave in to Trina's haggling powers. Although, Trina was initially a bit hesitant to book him because we were hoping to still find other couturiers as good as him but possibly of lower package cost. But it was already January, the timeline for Trina to book a couturier was already a month delayed (okaaay, so I admit Ken does the wedding preps!). Cecil gave the bridal gown at least a 20% discount from the estimated cost.. and not only on the bridal gown plus all of the entourage's as well!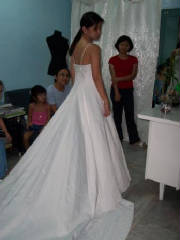 Cecilio Abad is Cecilio Abad, his name already speaks for his work! With Cecil's reputation on his punctuality and the quality of his work, what's really a few thousands difference when we can be sure everything will be delivered on time and we won't be stressed at all in dealing with. His plus points are his being honest and flexible. He would really make suggestions on which designs are truly fashionable that he'd even discuss the right mix-and-match of the colors and type of cloths to use that will suit our motif of red and gold. He is very nice and jolly too, you would also really enjoy talking to him. And true enough, we were never stressed. All requests and inquiries were answered, up to this point. Gowns were delivered and fitted well in all scheduled fittings, even in one of the replacement in the female entourage's whose measurements were taken just a week before the 1st fitting. His package also already includes the primary & secondary veils, pillows for the wedding rings & arrhae, the arrhae itself, cord, bible cover & beads of the bridal shoes... all Trina had to provide is her shoes and bible which Cecil also did the beadings and cover respectively. The biggest plus of course was his personal appearance a day before to setup the mannequin in the hotel and iron the bridal gown and on the day itself to make sure you will make it to the walk of your life. And Trina's bridal gown? It fits perfectly.. and this was just on the first fitting! Trina so loves Cecil and his works!
And one more thing to rave about Cecil is that when Trina saw the flowergirls' gowns, she liked the color combination too much that she wanted a similar gown for herself (though there isn't an occassion YET on line to put it to use!), so she asked Cecil how much would one cost. And Cecil's reply? "Gagawan nalang kita! Hindi na uso ang bathrobe for the hotel preps pictorials, un ang isusuot mo sa hotel preps mo!" Just when she really hasn't thought about what to wear for the hotel preps pictorials, Cecil added "gift ko na sayo un!" WOOOOOOOOWWWWWWWW!
To view pictures of Trina's wedding preparations in Manila Peninsula Hotel along with the bridal accessories and gold cocktail dress Cecil provided for this event, please click on the pictures on the left.

<----

To view pictures of Trina and the rest of the entourage's final fitting with Cecil, just click picture on the right.

---->
If interested, contact details are

CECILIO ABAD

1120 T. Ayala St. corner

P. Ocampo St. (formerly Vito Cruz)

Malate, Manila

Office: 3039672 or 4843407

Cellphone: 09184941696