Our love nest in
R O S E W O O D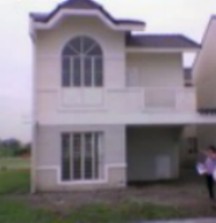 This is where we will be living after the wedding. We availed of a pre-construction deal just so that the whole package would come out a lot cheaper. The house and lot will be liveable come December 2005 (wow, our first christmas as a couple in our new house!). It is 2-storey house with 3 bedrooms and 2 bathrooms, and it has a mini terrace beside the masters' bedroom. Rosewood subdivision is located in Niog, Bacoor (about 1-2 kilometers away from SM bacoor) and the house we specifically chose is actually situated at block 12 lot 12 (obviously, 12 is our lucky number). It's not really as big, but it's so much enough for the 2 of us... and hopefully, our future kids. :)

Just to get a better visualization of it, below are the pictures around the house.. :)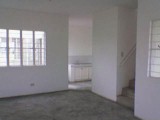 This is a shot from the main door from the receiving area. From where we are, we will have the dining table from that corner. Kitchen from here can be barely seen as the wall with stairway going to the 2nd floor somehow hides it. The said wall actually also covers a bathroom.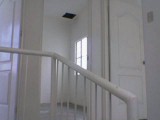 Now, this is taken from midway of the stairway going up to the 2nd floor. Obviously there are 3 rooms where the biggest is, of course, the masters' bedroom (OURS! OURS! OURS!). Every room has its own cabinet and each we'll have specially painted with a different color. They'll deliver it to us in bare white, just as how you see it. So somehow what we have in mind are colors peach and blue for each of the 2 extra rooms.. that is in case we'll have a boy & a girl.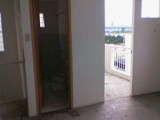 Now, we're really inside the masters' (OUR) bedroom. It has its own bathroom too which there is another door outside for our future kids (naks!) to easily access... yes, we'll make sure to double lock it inside! As you see it, it also has a mini terrace where Ken can comfortably have a bottle or two, or Trina can smoke (talk about our families' vices!).
We surely can't wait to live in our new home with just but the two of US! :)
If interested, contact details are

ProFriends

Properties Inc

Cellphone: 09195087147

Ofc Fax: 8316249



two souls with but a single thought, two hearts that beat as one.