This was how everything started...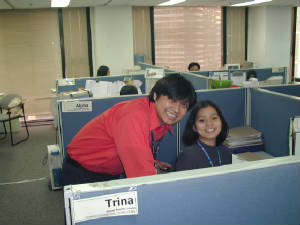 Ken and Trina met in EDCI( Equitable Data Center Inc), the company where they both first started working. Ken was an officer then when Trina got in, a fresh grad, as a programmer... and yes, she even used to call him 'Sir Ken.' Although they belonged to different divisions of the IT group which both were in the same floor, the two remained professional to each other. You see, it wasn't really love at first sight... but there were office rumors that someone had been eyeing on Trina for quite some time already (guess who?!)...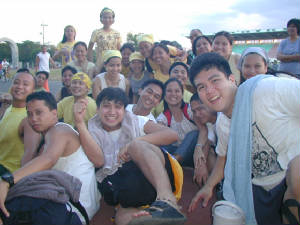 EDCI sportsfest
During an interbank basketball league where Ken was playing for EDCI, he was finally FORMALLY introduced to Trina by his then teammate whose girlfriend was Trina's close friend (who wouldn't want to be named since they aren't together anymore). Having common friends can be truly rewarding, isn't it? But during in the company's first ever sports fest, while Ken was playing for basketball and Trina in badminton, after having been working together for almost a year, it was the group practices and their being teammates that paved a way for the two to FINALLY get to talk to each other and eventually become friends. In fact, another common friend initiated the move for Ken to learn about Trina's place and bring her home after practices.
The so-called romance actually started thru real pop (all EDCI employees know what this is.. and it seemed that also other office loveteams blossomed thru this, haha), then come the phonecalls and texts which became frequent everyday. Ken's first attempts were everytime Trina had to go overtime at work, he'd jokingly text her 'tama na yan, may bukas pa..' and try to call at work just to say a little hello (styleeee...). Well, the two didn't go out right away either, and worse was, Trina wasn't really into dating that everytime a guy would ask her out, she would expectedly turn down. So how was Ken able to make her agree on a date with him???! As some of you might have known already, both of them are avid fans of PBA--> Ken for purefoods, Trina for Ginebra. A day before a game between these two teams, Ken made a bet that if Purefoods would win against Ginebra, she owes him a movie date. Purefoods must've had so many fans to pray for them! And it sure was within that week, Ken was able to take Trina out to watch the premier night of Starwars Episode 2. What was really memorable for Trina was when she got in Ken's car that night, the entire interior smelled as if perfume was showered in the car seats (as in!). And to top it all, two of Trina's former teammates unexpectedly needed a ride going to Glorietta as well, where they were going to anyway... and they all smelled with the same scent when they got out! Anyway, when finally they were alone in the movie house, it can truly be noticed that Ken was a quite bit tensed that his food kept on falling on his lap... which was prevented when finally it was his burger that fell and the mushroom and cheese was on the bottom side (messy for a first date huh? <laughs>).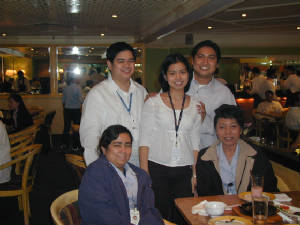 EDCI officers behind all these
With the CONSTANT teasing of most of the IT officers in their floor (just a little trivia that Ken was ONLY able to make Trina agree to let him bring her home to Dasmarinas was because of the great convincing "skills" by Ken's co-officer too!) and a BIG help from their group of friends, the said friendship blossomed into something really great... But of course, these officers never knew the real score until it's been 2 months since they started dating each other.. EXCLUSIVELY! :)



two souls with but a single thought, two hearts that beat as one.