Our Photographer
A R C H I E P A U N G A N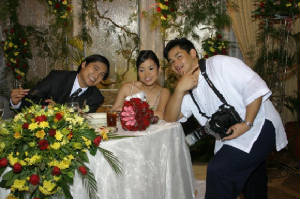 Archie has always been that nice and cheerful photographer who really knows how to deal with his clients. These are his plus factors that convinced us to book him. He's been very punctual in all our meetings, and he always takes time and never rushes the shots during pictorials. He also prompty replies to our inquiries and suggestions either thru text, call or ym. At times, he'd surprisingly drop us a note or IM us online when he has ideas that can spice up our wedding reception (Ola, parang coordinator!) or just to share the pakulos of his previous clients' wedding programs that we can probably also incorporate to ours. Really... no stress at all in our part, and he's one charming photographer... may HD nga sa kanya ang make-up artist ni Trina, hahaha!
How everything started was he initially offered us a free prenup pictorial (which is also uploaded in his pbase website thru

http://www.pbase.com/photo_arch/ken_and_trina&page=all

), set the date and place, and came right on time. Right there and then, although hesitant with the current photography services' prices, Ken became fond of him and booked him. Just a side story that we weren't really the model type who'd go for studio picture-taking shots. Ken was even a bit tense at first but Archie was able to somehow calm him down and redo the shots.. super paaaaaatient. When he handed us the CD of the trial prenup shots, surely the pictures were all great and our emotions were captured (check out some of our favorite shots on the slideshow on the right!). We really felt we made the right decision on getting Archie as our photographer.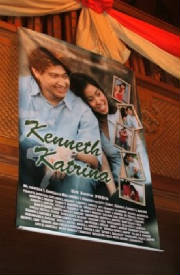 Due to our limited budget, Archie allowed us to actually customize his original packages... which the total package price came out with so much discounts (really, he's so easy to talk to and haggle with!)! In fact, a tarpauline, which we intend to post in the Coconut Palace's receiving area and is not part of his package, was offered to be his wedding gift to us (so free na naman!). He'll also be doing a big part of our AVPs for FREE as well.